'I still can't believe I did it!!!' – The healing Hypnobirth of Sadie Lane
When I received the birth story from this special mum I burst into happy tears!! This mum had a very long and traumatic birth with her first baby which included a cascade of intervention and affected both mum and dad well into their postpartum journey. Bess came to me to prepare for her second birth – we spent a lot of time debriefing the first birth, understanding why things happened as they did as well as putting a lot of focus on letting go of fear and regaining trust and confidence in her body's ability to birth. The birth of her daughter Sadie is the healing birth this mum and her partner deserved. Enjoy…
************************
After Luca's traumatic birth to say I was terrified about going again was an understatement. To be able to say that I had an amazing, empowering birth experience seemed such a foreign concept! But I did it!!  A 13.5 hr labour total using Hypnobirthing, TENs machine and gas.
I started having contractions just after 8pm Tuesday but thought they might just go away like the last couple of nights. I went to bed, listening to the  'Baby Come Out' Hypnobirth track and they were still going. So I put on my hypnobirth playlist and just let it happen. By around 11:30 my contractions were really starting to ramp up and were about ten mins apart so I called the hospital just to check in and they were happy for me to continue labouring at home. I had mum come over to look after Luca who of course had woken  and was screaming because Pete and I weren't paying attention to him 🤦🏼‍♀️
By 3am my contractions were about 4 mins apart and I was starting to feel really fatigued so we called the hospital again and they said to come in if we were ready to.
We were so lucky with midwives they had thoroughly read my file and birth preferences and we walked straight into a dimly lit room and they had put LED candles around.
We instantly put on the hypnobirth track 'Tranquil Chambers' and I just had that playing on repeat the whole time.
I had to firstly have a cannula and drip for GBS but was only hooked up to it for about twenty mins then could move around freely. While hooked up to the drip I was checked to see how far dilated I was and I was 4, almost 5cm which I was pretty happy with.
I then spent some time in bed on my side and then on the ball. At about 5 a new midwife started (Laura) who was just phenomenal. She let us do our thing.
By about 6 I remembered the TENs machine. I hated it for the first couple of contractions but after that it was an absolute godsend.
I was then hooked up to a drip for a little while as I was a bit dehydrated. Before doing it Laura discussed it with us giving us our options etc, I felt very considered and in control every time we did anything.
Once I had that fluid in me things ramped up a bit and I started to really struggle and requested the gas. We started on a low dose but I pretty quickly asked for it to be turned up. I already had made up my mind when asking for the gas that I wanted an epidural. I was stoked with my effort and was ready.
Laura asked a few times if I was sure and provided a few alternatives. After discussing with Pete we decided to see how far dilated I was and try and break my waters then jump in the shower.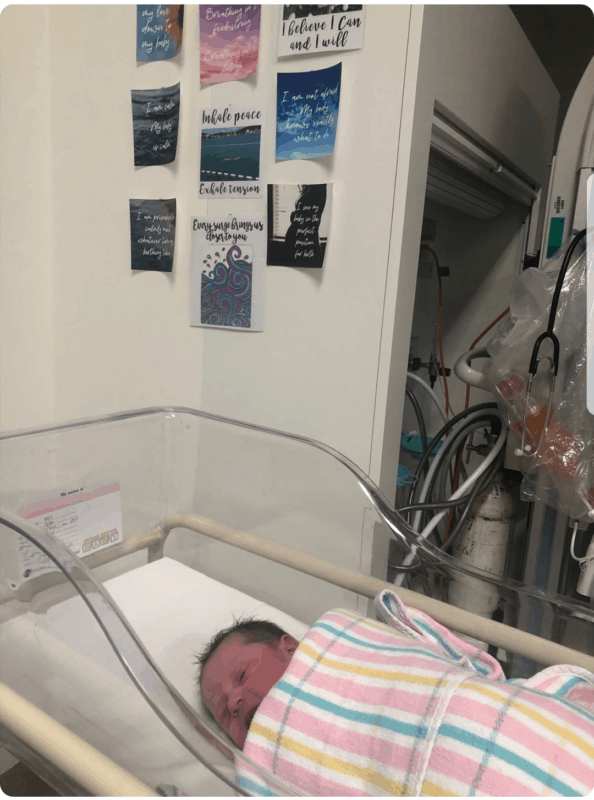 I was 6cm and breaking my waters was ridiculously painful and it only leaked out a bit but things definitely did ramp up. Around this time drs visited and pretty much said you're doing great hopefully we won't see you again and left.
After that I pretty much couldn't get out of bed (on my side) contractions were coming every minute or so and I was begging for the epidural. This was only about ten mins after she'd checked me and I had been 6cm so she called the anaesthetist who took about 15 mins to come.
As he was entering the room I got the most intense pressure and told her I needed to go to the toilet and sat up on the edge of the bed. She asked to check me and I got on my side and I saw her look at me to lie down which I couldn't and the baby's head was there!! I saw her look at Pete and I knew it was too late. The anaesthetist left and I lost a bit of control there. I wasn't ready to push out the baby without the epidural I was exhausted and I didn't think I could do it.
Pete just held my hand and looked me in the eyes and said "It's time. You can do this we're about to meet our baby". I tried to lay on my side but it was too painful and I couldn't manage to get on my knees. The most comfortable position was on my back so that's how I had her. Laura asked me if I wanted to feel her head so I reached down and could feel her which gave me a bit of strength to push. I pushed about 3 times and could feel her coming out and going back in. Laura had warm washers on me, which really helped. Then they put the screw monitor on top of her head and Laura said "we are getting this baby out now so the doctors won't be back in. Listen to my voice and do exactly what I say." I think I yelled at her and I tried to push, but it didn't do much.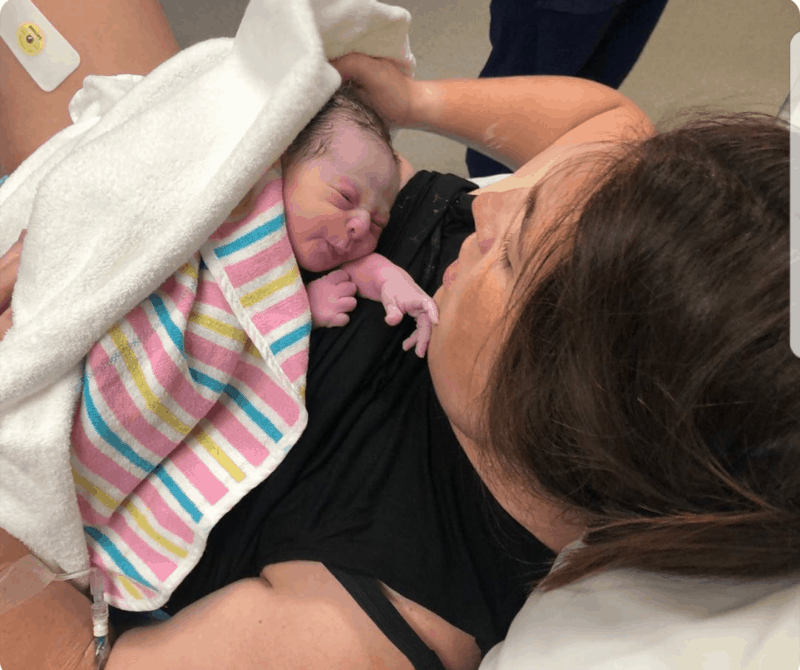 Next second two drs were in the room with a vacuum and Laura said if you don't want that vacuum we're pushing her out next go. The drs held my legs and I pushed and all of a sudden she just shot out. I thought she was going to fly off the end of the bed! I think all in all it was about 6 pushes and about ten mins of pushing which was wildly different to my 2.5 hours pushing with Luca.
Laura put her straight on my chest and the doctor told me he was giving the injection for placenta and I asked to wait until the cord had stopped pulsating, which it had so they clamped that and Pete cut it and then I was told I had a bit of bleeding so was happy to get the injection and get my placenta out.
Sadie then sat on my chest feeding for almost 2 hours while I was checked over. I had a bit of a bad graze and was given a few stitches, but that was it!
Thanks again for everything Nat. I know that it was me and Sadie and Pete who did it, but there is no way we would have been able to get there without your constant support and guidance. I just still can't believe it!!!!